Rhys started school this year and is just thrilled that he has figured out how to write notes to people. He has always scribbled things but now he writes with a purpose. Since he is 5 and really can't spell well, he tends to write phonetically. This means, if you are not on his wave length or know how to read notes with incredibly creative spelling, you may miss his point.
Luckily, I am on his wave length and can generally decipher what he has written. These two gems, now safely tucked away (with translation on the back)so I can pull them out when he is a snide 16 year old and fondly sigh over what a sweet little boy he was, were written to his older brothers on Valentine's Day. You can click to see a larger version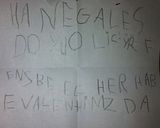 Want to give it a shot?
Hey Nicholas, Do you like your friends being here? Happy Valentine's Day!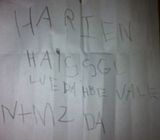 Hey Ryan, How is school every day? Happy Valentine's Day!